As the saying goes, "Home is where the heart is," and every heart deserves a place that not only captures but also amplifies its essence–which is where interior design comes into play.
The interior of your house is more than just furniture and décor; it's a reflection of your personality, a mirror to your aspirations, and the very heartbeat of your household.
Are you looking to make your duplex apartment a place that not only welcomes you home at the end of each day but also envelops you in comfort, sophistication, and warmth? Then, keep reading as I share with you some astonishing duplex interior designs in Nigeria you can grab inspiration from.
Duplex Interior Design Ideas in Nigeria
1. Transitional Interior Design
This dining interior decor unites classic and modern aesthetics. It combines components of both looks to provide a seamless and classic appearance.
The design strategy focuses on creating a harmonious and comfortable environment by skillfully fusing traditional and contemporary features.
2. Retro Interior Design
This home library radiates a classic appeal that combines clean, mid-century modern lines with warm, earthy tones, such as rich mahogany or walnut wood furniture. The wall is adorned with vintage-inspired wallpaper.
Furthermore, a comfortable armchair that is calling your name. The shelves are elegantly lined with classic literature and collectable editions, while vintage lighting fixtures, such as antique brass floor lamps, cast a warm, welcoming glow.
Read: Spa Interior Designs in Nigeria
3. Maximalist Interior Design
Maximalist design is a style that embraces boldness, abundance, and eclectic creativity. It's characterized by vibrant colours, diverse patterns, an array of decor, and a mix of textures. This design features statement furniture, layered lighting, and global influences, offering a visually stimulating and highly personalized atmosphere that celebrates the art of excess and self-expression.
4. Scandifornian Interior Design
This interior design is like a delightful mix of simplicity and practicality. It's all about creating a space that feels serene and open. Scandifornian decor is often neutral colours like whites, creams, and soft greys, which make the room feel light and airy.
Now, when it comes to furniture, it leans towards minimalism with clean lines and a strong emphasis on natural materials such as wood and leather. But here's the cool part – Scandifornian design adds a touch of Californian charm.
So, you'll see things like indoor-outdoor living ideas, tons of natural light pouring in through big windows and glass doors, and a bit of that laid-back bohemian vibe with rattan, woven textiles, and lots of greenery in the form of potted plants. The goal is to seamlessly connect the inside with the outside, making the space feel super relaxed and welcoming, like your own personal oasis.
5. Modern Kitchen Design
This is a modern kitchen design with a central dining area and white walls. It is marked by its clean lines, open layout, and functional features and includes sleek cabinetry, stainless steel appliances, and smart storage solutions, offering a bright and beautiful space for cooking and dining.
6. Minimalist Interior Design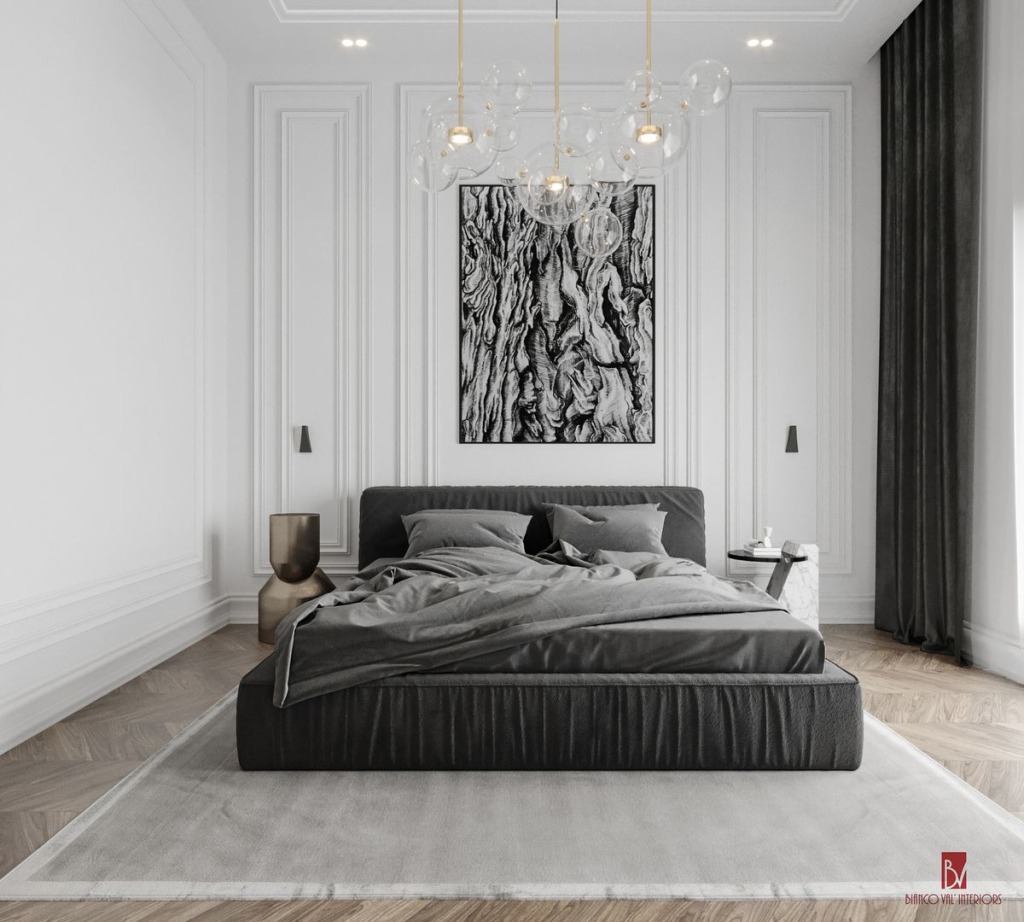 This style creates a serene and stylish retreat, perfect for relaxation and sleep. Minimalist bedroom design is about simplicity and tranquillity. You can stick to neutral colours, minimal furniture, and hidden storage. Make sure to choose quality materials like wood, indoor plants and chandeliers.
To achieve this, it is important to have balance and harmony in your design. Make sure every component works in unison.
This particular design is ideal for a boy's room. It embodies simplicity and excellent organization while maintaining a friendly and professional appearance.
7. Luxury Contemporary Interior Design
To inspire a sense of luxury and leisure, this style combines clean, modern components with rich textures and high-quality materials. This luxury contemporary bedroom interior design is a creative and appealing way to create a comfortable and luxurious sleeping space– you can implement this design in the master bedroom.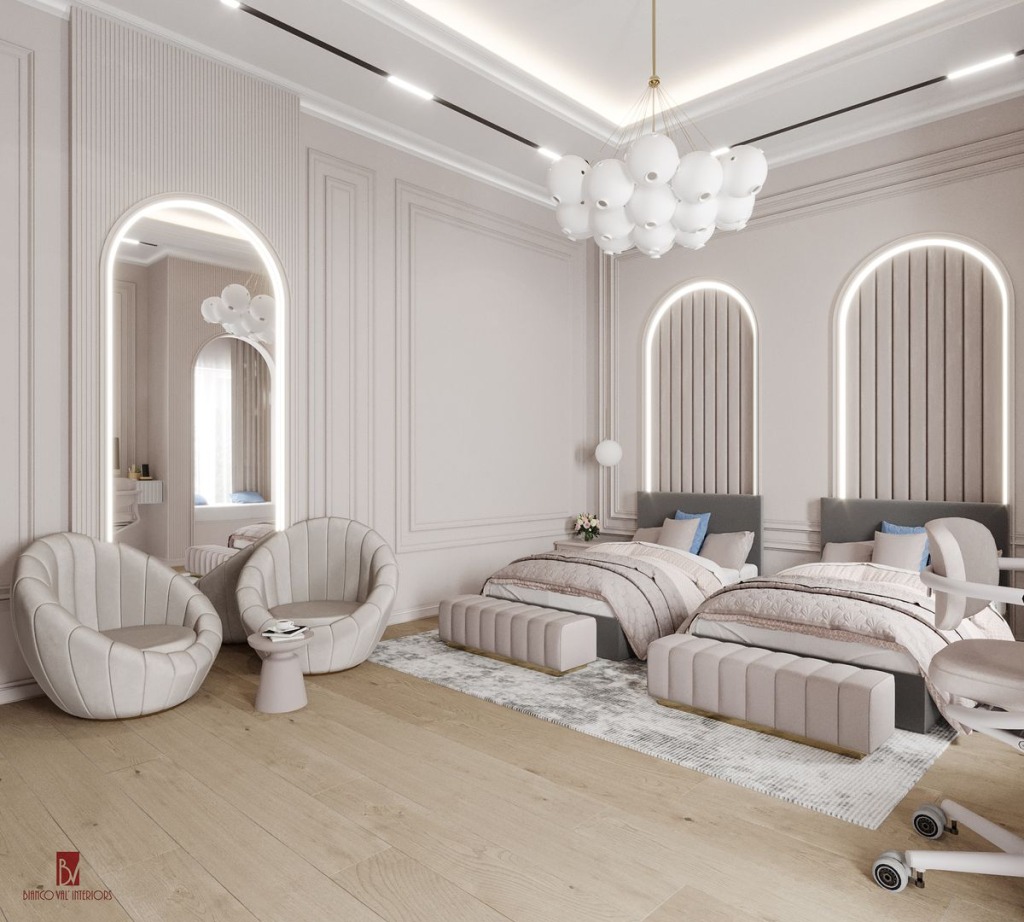 This design is a wonderful choice for your daughter's room, as it fosters a stronger sense of connection between them. The arrangement optimizes available space, ensuring there's ample room for activities and fostering a sense of openness that encourages interaction.
To add a touch of personalization, consider incorporating elements that reflect your daughters' unique interests and personalities. This can be achieved through carefully chosen decor items, such as wall art, bedding, or accessories that resonate with their individual tastes.
8. Hollywood Bedroom Design
This decor exudes glamour and luxury. The style features rich and dramatic colours, plush furnishings with luxurious materials, glamorous lighting fixtures, high-quality bedding, etc.
Hollywood interior design embraces a sense of opulence and sophistication, creating a space that makes you feel like a star in your own home.
Conclusion
Having a well-designed interior decor plays a great role in contributing to the comfort and serenity in your home.
From the designs I've mentioned in the post, you can easily decide on the type of design that suits your taste.
However, if you find yourself uncertain about design decisions, I would suggest you engage a reputable interior design company like Bianco Val' Interiors to help you bring your dream home into reality.