A great hotel is not merely a place to rest one's head; it is seen as a haven of comfort, an oasis of luxury, and a canvas for artistic expression.
Imagine stepping into a hotel lobby that transports you to a world of elegance and sophistication, or a room that evokes a sense of serenity and relaxation.
These encounters are not by chance; rather, they have been carefully planned by interior design decisions that meet the needs and standards of the hotel and contemporary travellers.
In this blog post, I will share with you some luxury hotel interior designs in Nigeria you can gain inspiration from.
Interior Design Ideas for Hotel Lobby in Nigeria
An appealing lobby creates a memorable sense of arrival and is essential for guest satisfaction and your hotel's overall success.
A lobby is the first impression your guests have when they step into your hotel which is why its interior is crucial. It reflects your brand, provides guest comfort, encourages engagement, and sets you apart from competitors.
1. Classic Grandeur Lobby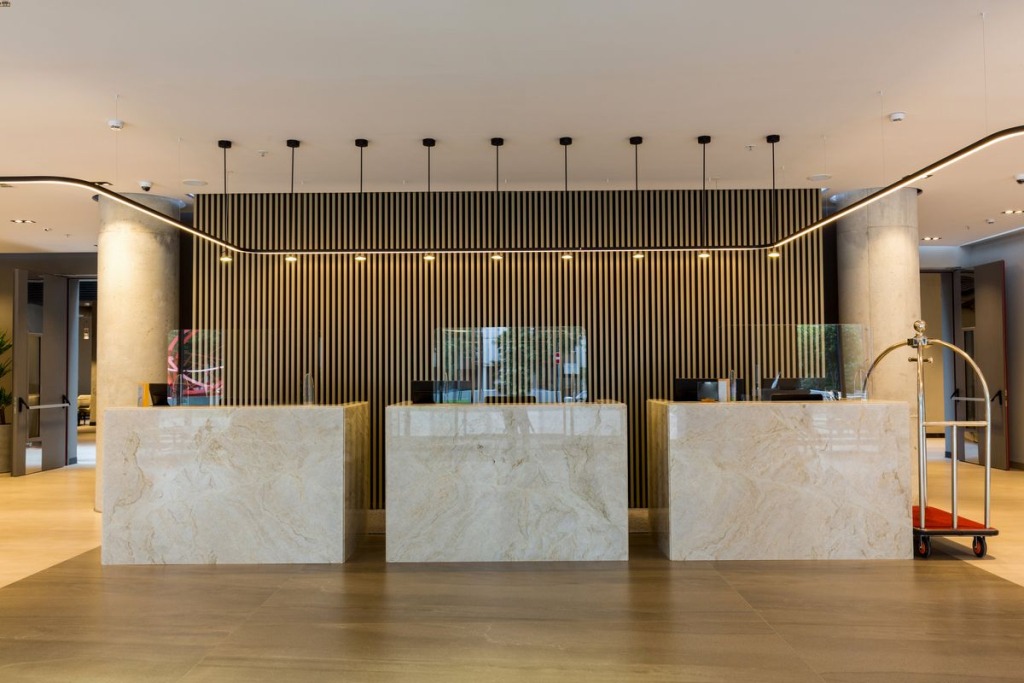 You can see that this lobby is characterized by rich, traditional furnishings, exquisite chandeliers that cast a warm glow, neutral colour palettes that exude sophistication, and marble accents that add a touch of timeless elegance.
This is actually a great interior idea for a 5-star hotel. However, you can still add some unique touches to improve your brand image.
2. Nature-Inspired Lobby
A nature-inspired lobby design draws inspiration from the natural world to create a welcoming and soothing atmosphere.
To provide your visitors with a relaxing and warm atmosphere, I suggest you include natural components like wood, stone, and indoor plants.
Hotel Room Interior Design Ideas in Nigeria
The décor of a hotel room is quite important for improving your guests' experience. It should provide a seamless fusion of aesthetics, comfort, and personalisation, resulting in a setting where your visitors may relax, revitalize, and create priceless memories during their stay.
1. Minimalist Room Design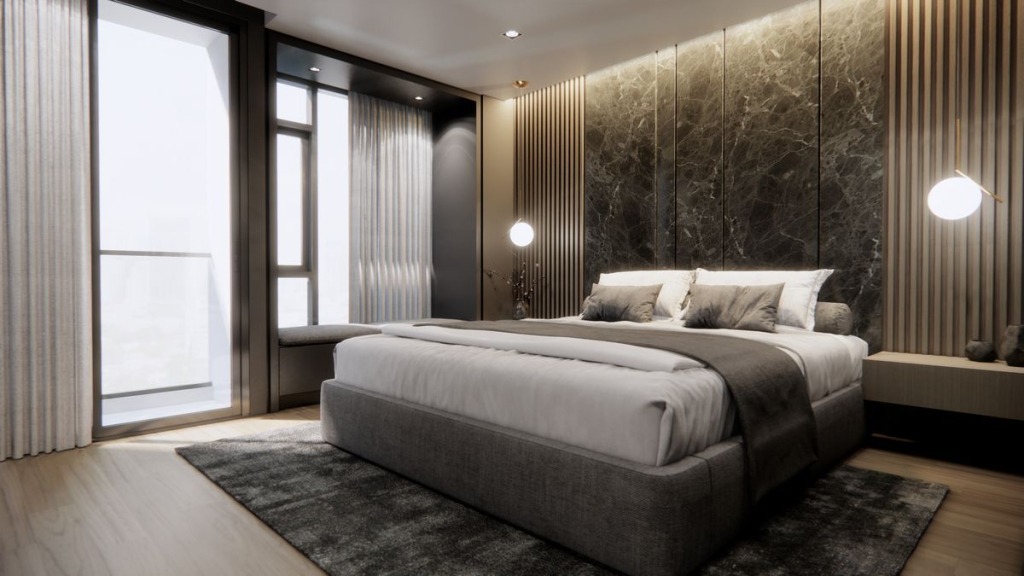 Designing a hotel room in a minimalist style highlights calmness, simplicity, and functionality. A neutral colour palette, clean lines, useful furniture, minimal decoration, and natural materials are essential components.
This would help you prioritize quality over quantity and focus on creating a serene and uncluttered environment with ample negative space. Comfort is still crucial, with a focus on cosy seats and bedding.
2. Contemporary Interior Design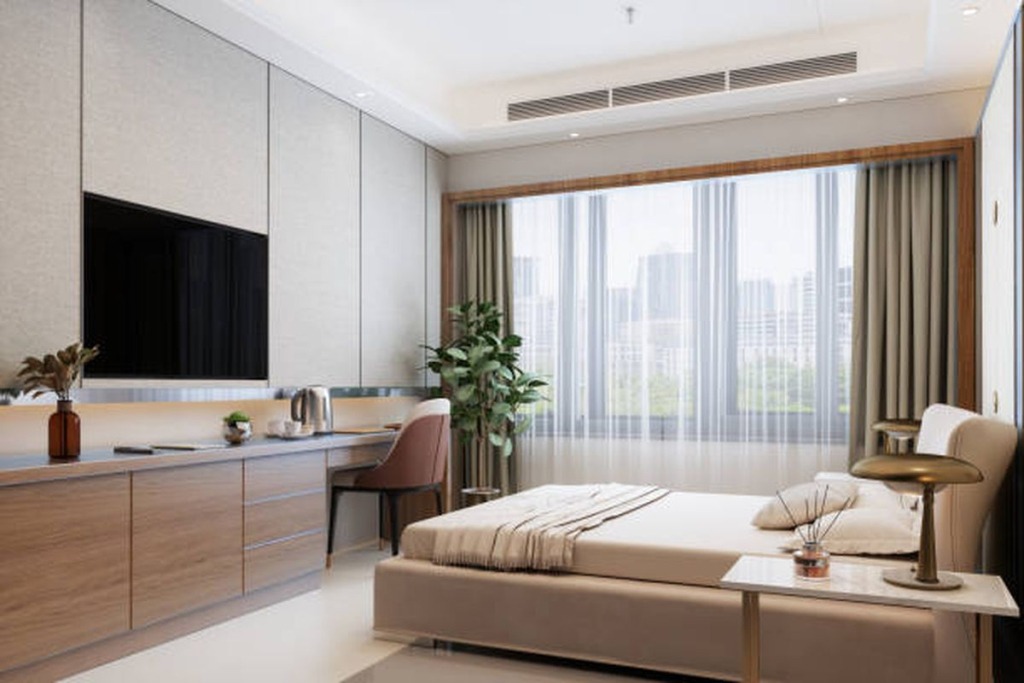 Decorate your luxury rooms with top-tier materials such as high-quality bedding, unique, durable floor tiles, indoor plants, etc., to ensure your VIP guests feel pampered and indulged during their stay. For a luxury room, ensure to give meticulous attention to detail.
Read Also: Office Interior Design in Nigeria [Interior Design Ideas]
3. Cosy Rustic Design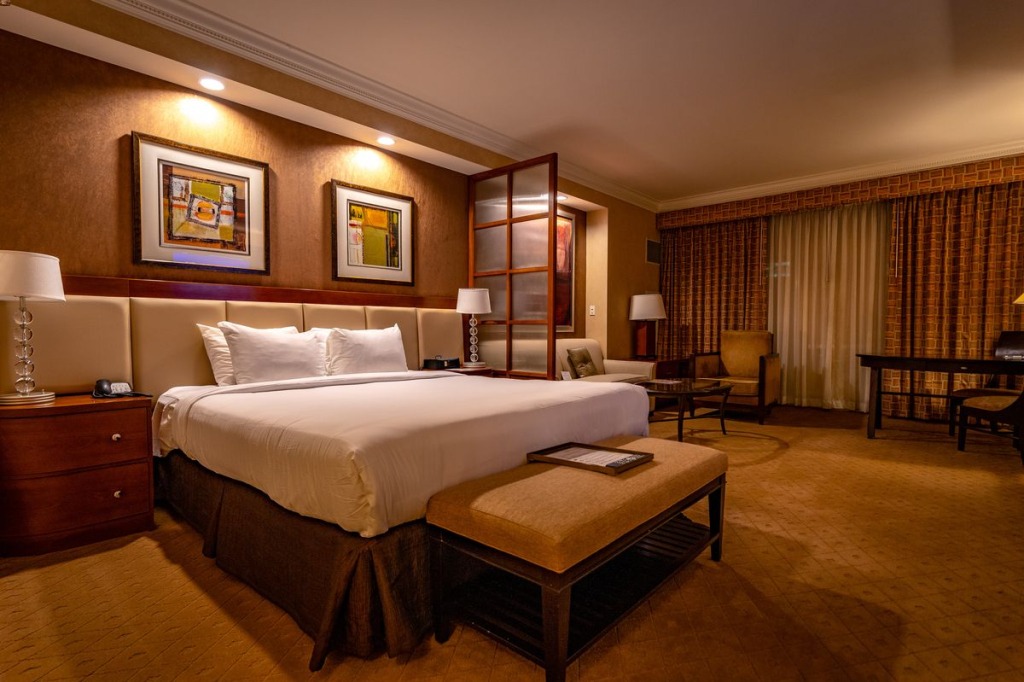 This design blends natural materials, warm colours, and comfortable furnishings to create a welcoming and comforting atmosphere.
You can have the rooms in your hotel decorated with warm woods, earthy tones, and cosy rugs to create a rustic and inviting atmosphere for your guests.
Sleek Modern Bathroom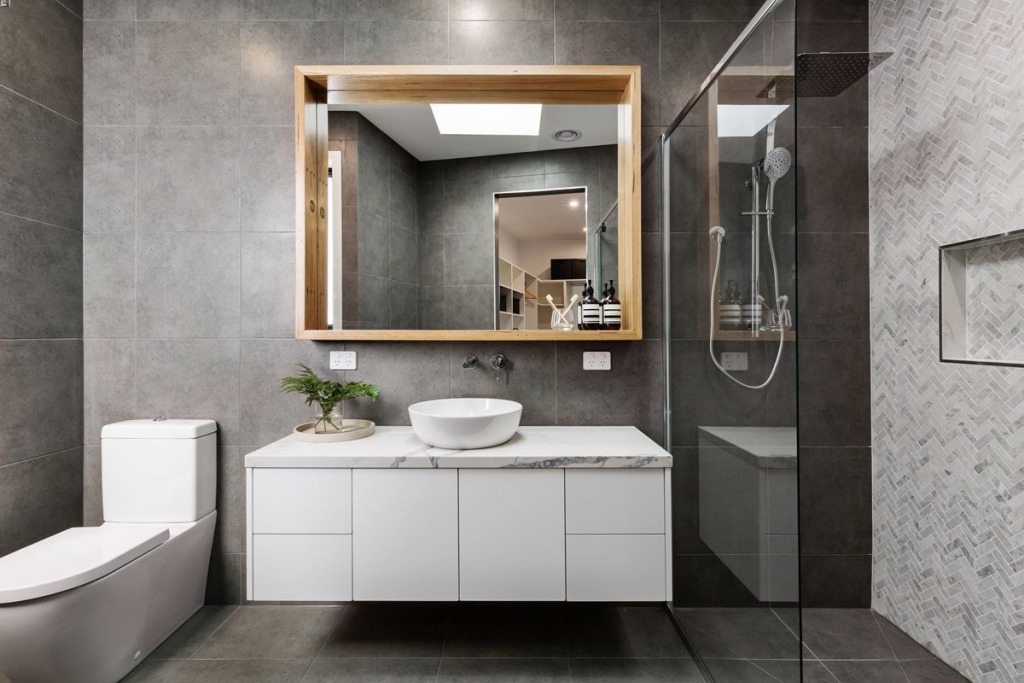 This bathroom's simple styling, neutral colour scheme, and clean lines are all highlights. It places a focus on high-end components like marble and glass and incorporates extras like floating vanities, frameless shower enclosures, smart electronics, and lots of lighting.
The style exudes elegance and sophistication, offering your guests a contemporary and relaxing spa-like experience.
Hotel Restaurant Interior Design Ideas
1. Industrial Interior Design Style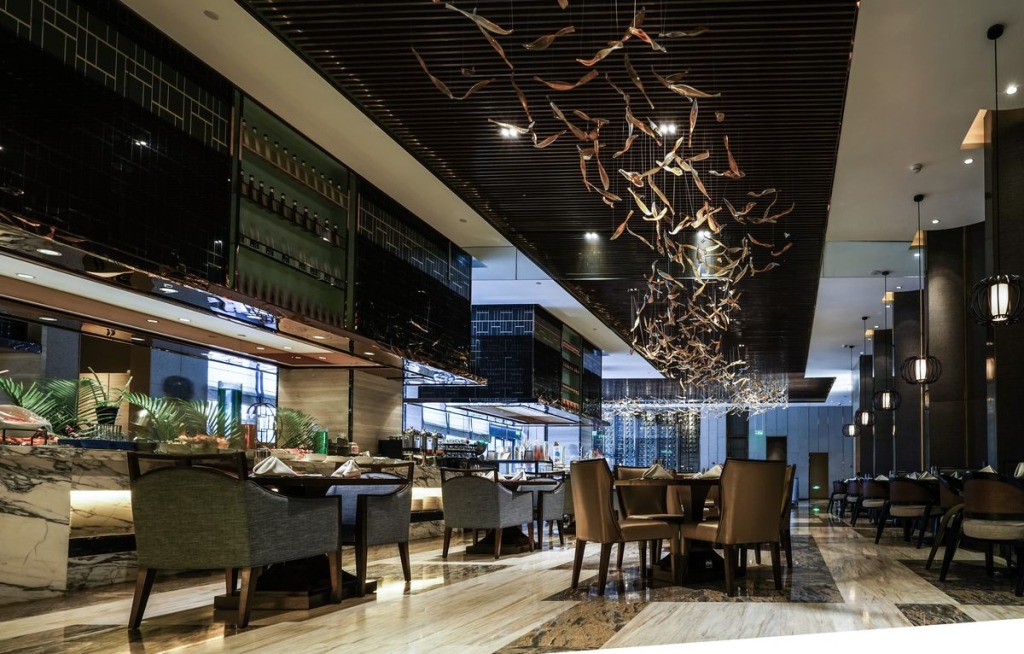 The goal of this hotel restaurant design is to create an extravagant and sophisticated atmosphere.
I suggest infusing essentials for a formal dining experience such as lavish aesthetics, luxurious materials, great attention to detail, crystal chandeliers, well-appointed table settings, a sophisticated colour scheme, and carefully curated art and decor.
2. Rustic Lounge Design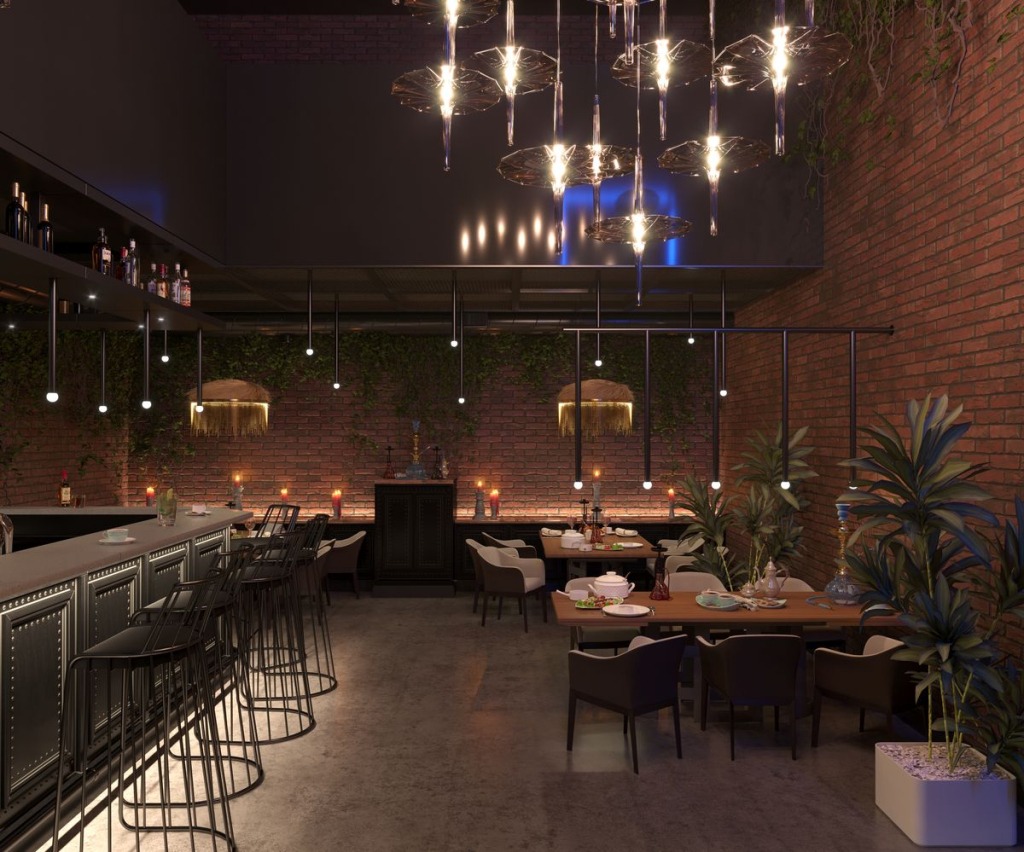 A cutting-edge design that prioritizes open floor plans, adaptable furniture, natural elements, technological integration, and an urban vibe for a bar experience.
It aims to create cosy and welcoming spaces with a focus on customization and a connection to the local culture, offering your guests a unique and memorable experience.
Who Designs Hotel Interiors in Nigeria?
Hotel interior designs in Nigeria are typically done by professional interior designers and architecture firms with expertise in hospitality and commercial projects. With over a decade of experience in the Nigerian interior design industry, Bianco Val' Interiors specializes in creating interior spaces that align with your hotel's branding, cater to guest comfort, and adhere to local and international design standards.
When looking for an interior designer for a hotel project in Nigeria, it's essential to consider their experience in the hospitality sector and their understanding of local culture and regulations.
Reasons You Should Hire a Professional Interior Designer
From my several years of experience, I can categorically tell you that hiring a professional interior designer for your hotel interior design offers significant benefits.
I understand most people enjoy engaging in DIY interior designs, but when it comes to buildings like hotels–especially luxury hotels, hiring a professional is highly recommended.
Here are four major reasons you should consider hiring a professional interior designer:
1. Expertise and Creativity
At Bianco Val' Interiors, we have the knowledge, experience, and creativity to transform your hotel spaces into functional and pleasing environments. We have expertise in space planning, colour theory, and material selection. Also, they may see potential in a space that others may not see.
2. Cost Efficiency
Contrary to popular belief, hiring an interior designer for your hotel cannot be considered "expensive".
At Bianco Val' Interiors, we help you save money in the long term with our access to a network of resources built since 2013.
Also, with our expertise, we'll help you avoid costly mistakes and revisions, ensuring that your budget is well-managed.
3. Time Savings
Designing and decorating a space can be time-consuming and overwhelming. At Bianco Val' Interiors, we can help you streamline the process, making it more efficient and less stressful for you.
We'll handle all the research, sourcing, and coordination, allowing you to focus on other aspects of your business.
4. Personalized Design
We collaborate with you to determine your needs and preferences in order to create designs that are tailored to your brand's needs. This individualized approach yields a one-of-a-kind and tailored design that fulfils your hotel's objectives and expectations.
Conclusion
You would agree with me that investing in hotel interior design creates a memorable and welcoming atmosphere for your guests. From the opulent lobby to the cosy rooms, chic bathrooms, refined dining spaces, and contemporary lounges, each area boasts its unique design style.
Experienced interior designers like Bianco Val' Interiors are generally tasked with creating these environments in which our expertise ensures alignment with your hotel's image, the delivery of utmost comfort, and adherence to industry design standards.
Partnering with us for your hotel interior design has several appealing benefits, such as unmatched skill, cost-effective solutions, and time-saving expertise.
Also, we have the capacity to customize designs to your brand's unique requirements.
For expert assistance in creating elegant hotel decor, feel free to reach out to BIANCO VAL'Interiors your trusted partner in crafting exquisite interior spaces.