A spa is not just a place; it's an experience, an environment where your clients seek relaxation, serenity, and self-care. It's where the stresses of the day melt away, and where the mind, body, and soul find solace.
However, there's something more to this beautiful experience than just soothing massages and aromatic baths–It's your interior decor.
As an interior designer, I can tell you that a spa's interior design isn't just about decoration; it's about crafting a haven of serenity.
In Nigeria, where culture, tradition, and modernity converge, spa interior decor takes on a unique and exciting dimension. It's a fusion of local vibrancy and global trends–a blend of traditional charm and contemporary elegance.
Are you about to start or revamp your spa business and you're looking for the best spa interior designs in Nigeria that would suit your brand?
Don't worry, I'm here to guide you.
In this blog post, I will show you some interior ideas that will help you craft the perfect spa interior for your business.
Spa Interior Design Ideas in Nigeria
1. Zen Interior Design
A Zen-inspired design in your Spa waiting room would help to promote relaxation for your clients and also improve their waiting experience with comfort.
This design is about earthy colours (beige, white, grey) and natural elements that create calmness. I also suggest enhancing this beauty further with indoor plants. They could either be natural or artificial plants. Whichever option you choose, I can assure you that you'll achieve the same goal.
2. Earthly Tones and Nature-inspired Designs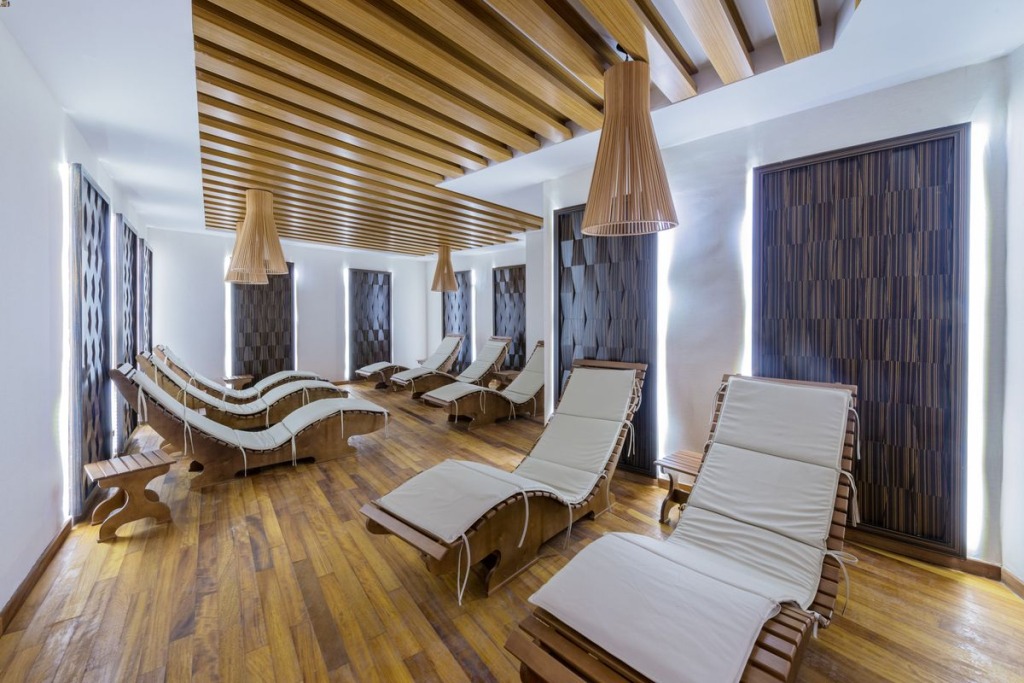 I've seen my fair share of captivating and timeless spa interior design trends and one major thing that stands out in most of them is the use of earthly tones and nature-inspired designs. And if you were wondering, these designs work beautifully in Nigeria too.
This design is known as "Transitional interior design". It is a style that blends elements of both traditional and contemporary design, creating a balanced and harmonious look.
You can opt for earthy tones like deep browns, greens, and soothing blues. Also, elevating this design by using natural materials such as bamboo, wood, indoor plants, and stone helps create a calming ambience that connects your clients with nature.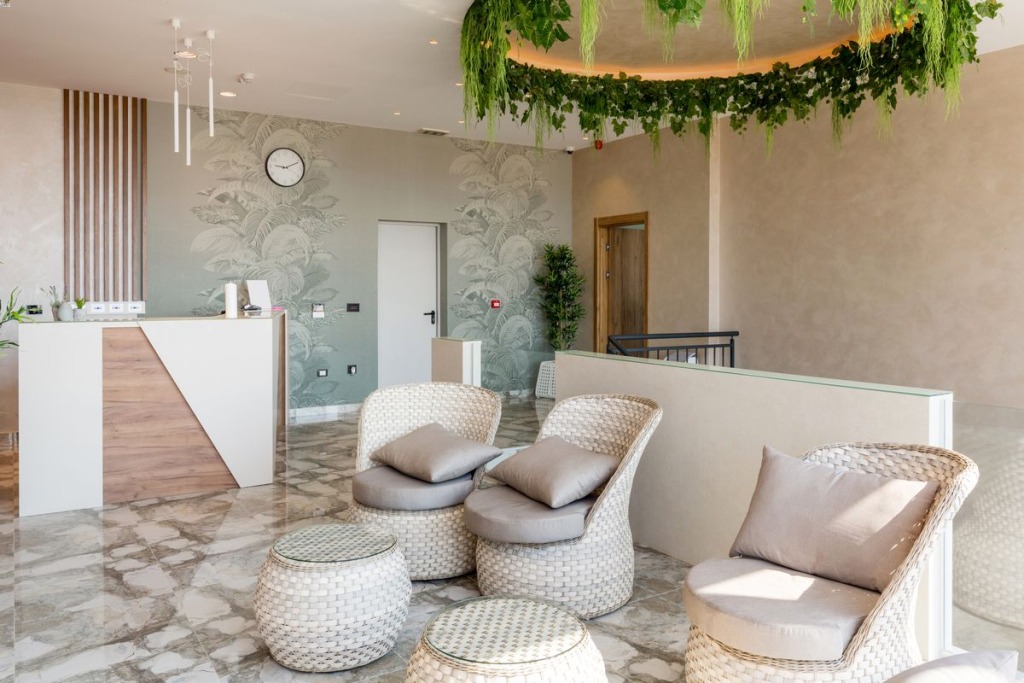 Your spa's reception area is more than just a check-in desk; it's the first impression and heart of your spa experience.
Therefore, I highly recommend that you go for a design that exudes a sense of tranquillity and relaxation.
Incorporating elements like calming colours, comfortable seating, and soft lighting can help you create a soothing ambience that prepares your clients for their spa journey.
Read: Hotel Interior Designs in Nigeria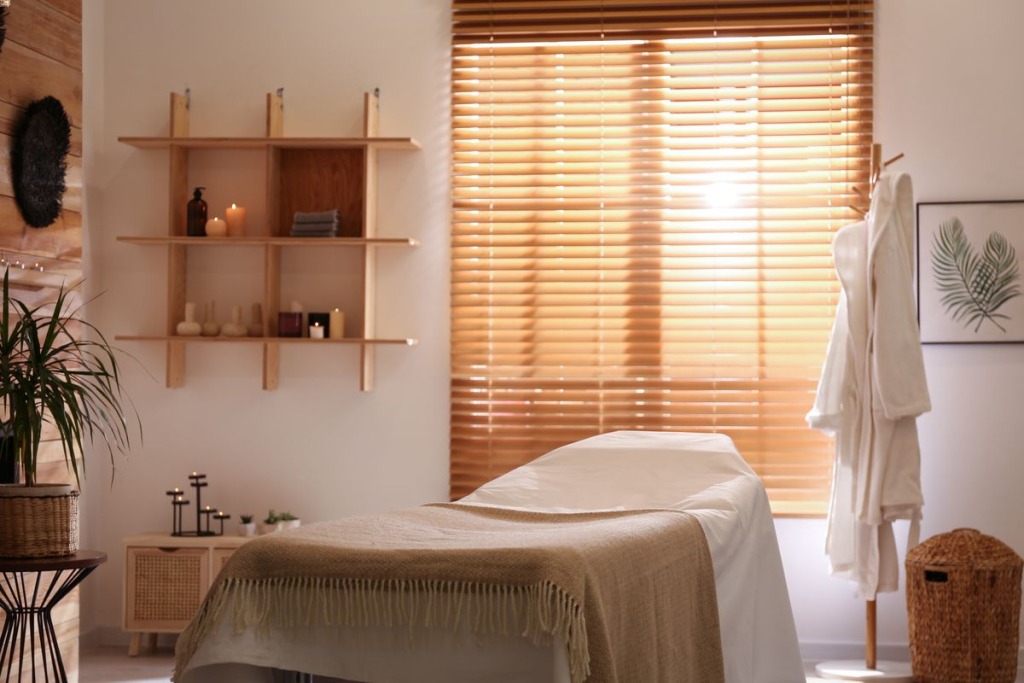 When it comes to designing Spa treatment spaces, I recommend you embrace earthly tones and draw inspiration from nature. This works wonders in creating a beautiful atmosphere.
Unlike trendy, bold colours that may go out of style quickly, earthly tones are timeless. They create a classic and enduring look that will stand the test of time.
You can use fabrics and textiles that exude a sense of comfort and earthiness–soft, organic cotton towels and plush, nature-themed throw pillows to elevate your client's experience.
3. Scandinavian Interior Design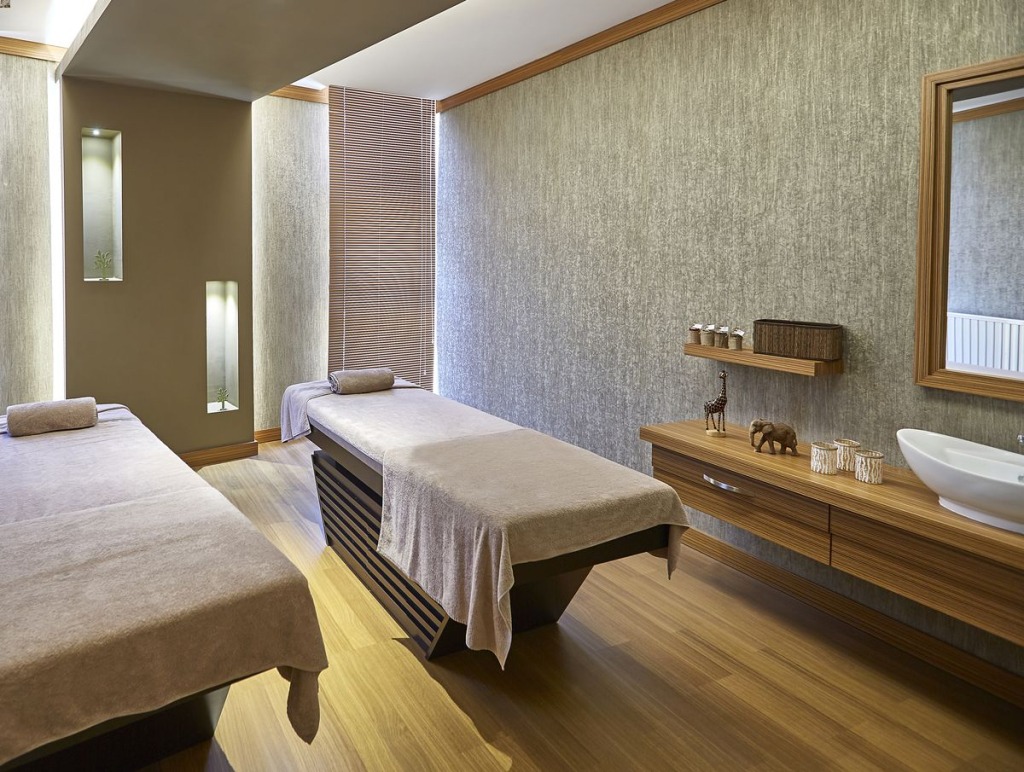 Scandinavian is a minimalist interior design. Its key features include simplicity, natural materials like wood, neutral colour palettes, and clean lines. This design emphasizes the use of light and open spaces and would be perfect for your spa treatment space.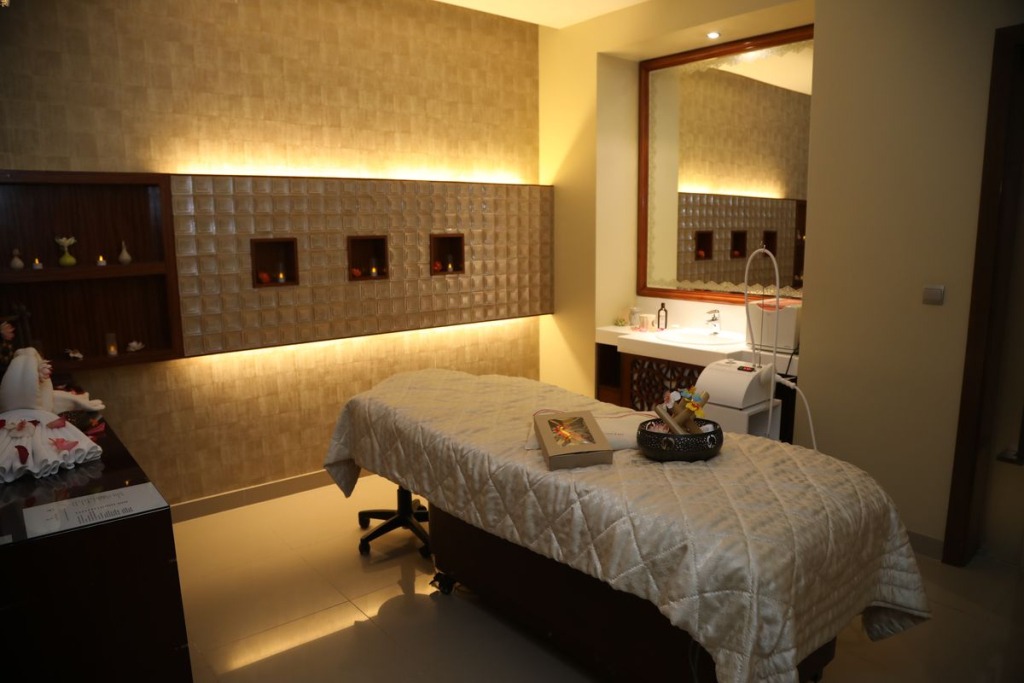 From experience, I've found that lighting can make or break the ambience of your spa. Therefore, I suggest you consider soft and warm lighting options for your treatment room.
Chandeliers, lanterns, and pendant lights can add a touch of elegance to your simple design while maintaining a relaxed atmosphere.
4. Mediterranean Interior Design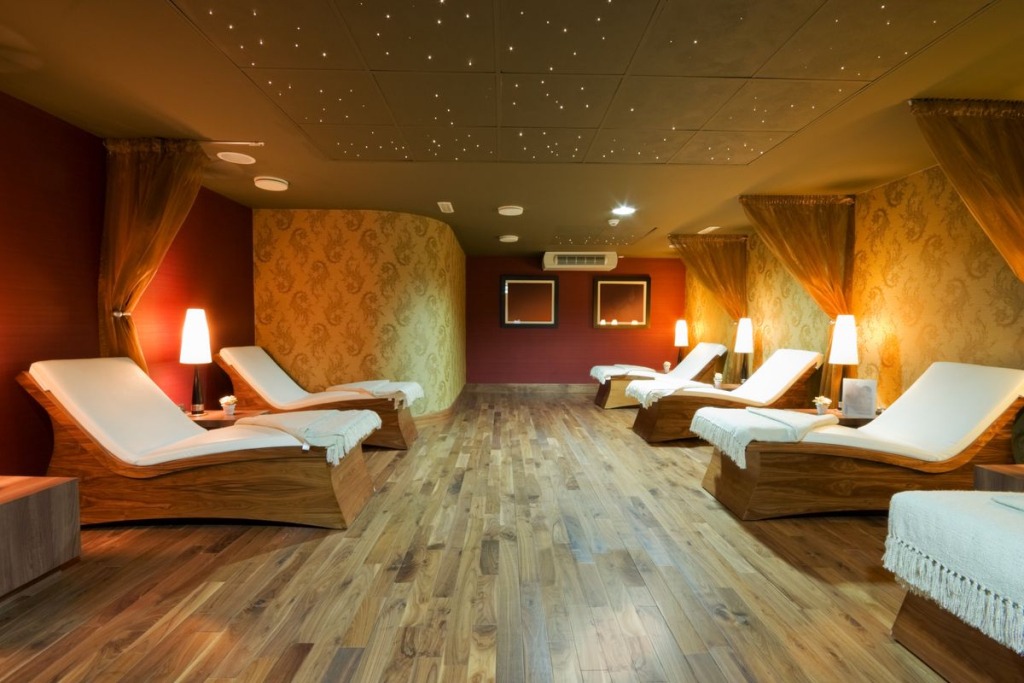 This design makes spaces feel comfortable and cosy by using things like cotton and wood. Your use of warm colours and soft, gentle lighting like the gentle glow of candles can help create a relaxed and comfortable atmosphere.
Tips for Choosing Spa Interior Design Style
Here are some expert tips to help you select the perfect Nigerian spa interior design style:
1. Understand Your Brand and Vision
When contemplating your spa's interior design, carefully reflect on your spa's mission, your intended clientele, and the services you provide. It's essential that your interior design harmonizes seamlessly with your brand and vision.
2. Research Design Styles
Search various interior design styles, such as contemporary, traditional, minimalist, rustic, or Asian-inspired. Look at spa interior design examples to get a sense of what resonates with you.
3. Create a Mood Board
Gather images, colours, textures, and materials that ignite your inspiration. Build a mood board to clearly see the harmonious interplay of these different elements.
4. Pay Attention to Lighting
Ambience-making requires careful consideration of lighting. Use fluorescent lamps in the treatment rooms and soft, diffused lighting in the leisure spaces.
5. Seek Professional Help
If you find yourself uncertain about design decisions, I strongly advise that you engage a reputable interior design company in Nigeria like Bianco Val' Interiors.
With over a decade of experience in the interior design industry in Nigeria (since 2013), and multiple awards achieved, we have built the expertise to help you turn your spa vision into reality while ensuring both aesthetics and functionality are well-balanced.
Conclusion
Creating the perfect spa atmosphere goes beyond offering exceptional services.
I've shown you some of the very best spa designs in Nigeria that can play a crucial role in setting the mood and creating a comfortable environment that your clients will love.
From minimalistic elegance to vibrant cultural influences, the possibilities are endless. If you're seeking professional guidance to transform your spa into a haven of relaxation and beauty, you can contact Bianco Val' Interiors for expert interior design services that will elevate your spa experience to the next level.